Following the announcement by the National Testing Agency (NTA) and the Central Government that the NEET UG tests will be held on September 12th aspirants are busy putting all their efforts and preparing for the exam to give their best.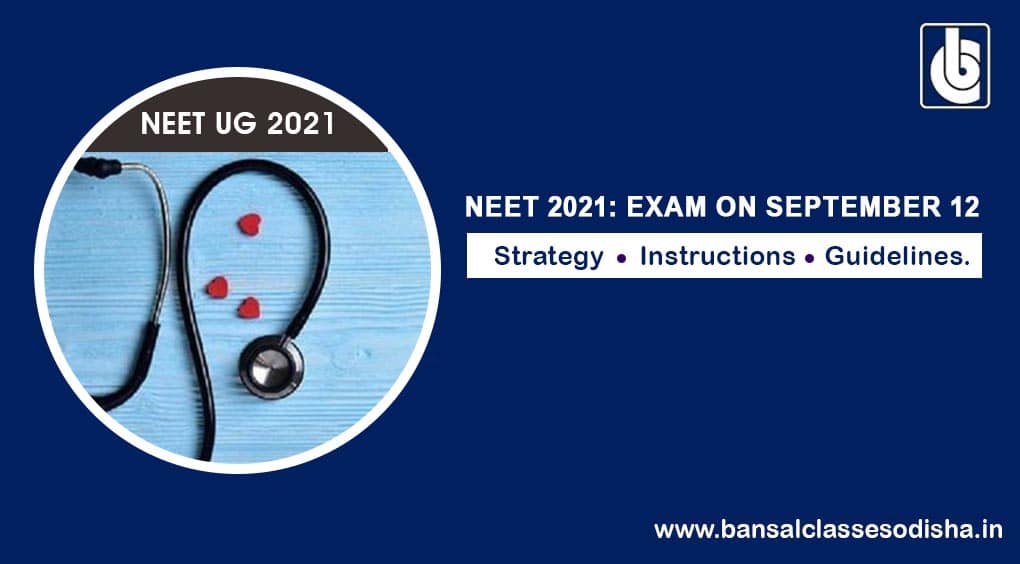 This year, what's new?
For the time being, it is known that the NTA's changes for this year's exam will include four portions in the pen and paper (offline) method (Physics, Chemistry, Botany, and Zoology) having four sections.
Each subject will have two sections A and B, each with 35 questions to attempt in section A, while section B in all subjects will have the option to attempt any 5 questions out of 10, providing some relief. This gives the exam a total of 180 questions to be completed in 3 hours, with the total marks remaining intact (720).
Choose NCERT textbooks – Choosing the best and simplest study material will aid in reinforcing concepts, and NCERT textbooks should always take precedence over referring to a large number of books.
Cover the topics intelligently – Because the NEET physics part has about equal weightage from Class XI and XII, focus wisely on learning all of the topics to improve your preparation outcomes. Though mechanics appears to be a low-scoring topic (as advised by several experts), it accounts for about a third of all marks awarded, making it a must topic. Other scoring topics include electricity and magnetism, as well as optics, which can significantly improve overall scores.
Learn and review formulas regularly – because the physics portion contains more numerical and mathematical problems, the best strategy is to learn the formulas regularly by taking shorthand notes. This will provide applicants with a competitive advantage by allowing them to tackle concept-based questions in a short amount of time.
Improve accuracy by taking regular mock tests – Taking regular mock tests will help you complete the sections well inside the time limit. Aspirants should take as many mock examinations as possible after reviewing the topics to increase their speed.
Consistent revision – For the time being, consistent revision is the key. The modification will be crucial in determining performance. Aspirants are recommended to review all of the topics and chapters that they have previously studied to recall them for a longer period. Weekly revision of all courses improves conceptual clarity, allowing students to perform and rank better.
With a limited amount of time, applicants must immediately assess their readiness and concentrate on the next NEET exam.
NTA NEET Exam Center Release Date 2021
NEET is a national exam administered by the National Testing Agency (NTA). As a result, it is being carried out all over the country. The exam center's list will be developed for applicants to appear in the NTA in each state. The name of the NEET Exam Center will appear on the neet.nta.nic.in Login admit card Download.
Candidates must research the Exam City, Address, and Venue ahead of time to be at the NEET Examination Center on time. Candidates who are looking for NEET Test center 2021 can use Google Maps to aid them. If you are traveling from another city, arrive one day ahead of time to avoid being late for the exam.
Important Instructions for NEET Exam 2021 Admit Card
Before the issuance of Admit Cards online, the NTA provided detailed guidelines for students to appear in examinations. Important Instructions are stated in the NEET 2021 Call letters which are as follows.
You need to carry your NEET admit card with you at the date of examination. You also need to carry ID Proof documents along with you.
There should be nothing written on the admit card. The entire admit card should have just the print.
Candidates need to check every detail on the admit card. If any detail is incorrect or missing then you can call for the correction in it.
The Hall Ticket is available in online mode only, it will not be sent by post or any other mode. Every candidate needs to download by NTA NEET official website using Application no and DOB.
In case any student faces any problems with their exam center or any other issue, can contact the NTA officials on the following contact details: email id: neet@nta.ac.in; telephone number- 011-40759000.